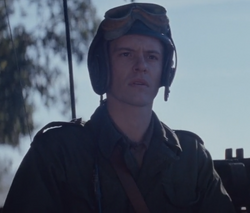 Parker is a supporting character in the movie Fury.
He is played by Xavier Samuel.
Biography
[
]
Not much is known about Parker, as he's a minor character at the beginning of the film. He addresses Wardaddy upon Fury reaching camp, and later gives them (Fury, Lucy Sue, Old Phyliss, and Murder Inc.) orders to move to another town, in which he leads the column in his tank, Matador. When passing by a treeline, on a small path, however, they're ambushed by children with anti-tank launchers. A panzerfaust penetrates the side of Matador, resulting in a quick-spreading fire. Parker was engulfed in the flames (and began screaming "Father!" erratically), but managed to bail out of his tank hatch. He rolled over the engine compartment and rear of the tank. After landing on the ground, he drew his M1911A1 and shot himself in the head, sparing himself the agony of burning to death.